Vacuum Callus Remover And Collector
How often do you go to salon? Do you want to get a callus remover that make you feel at salon? Our product will give you excellent experience!!!
Other foot files leave behind huge messes. Vacuum Callus Remover And Collector is the only motorized callus remover with unique derma-vac technology that sucks up those dead skin shavings WHILE you use it.
Pedicure-Worthy Feet, Without the Salon
Not much in life is more relaxing than a good pedicure. But, those salon visits are expensive to maintain. With Vacuum Callus Remover And Collector, you'll no longer have to suffer dry, cracked heels in between visits. Now you can have pedicure-worthy feet whenever you want.
Beautiful Skin Without the Damage
A regular foot file grates and damages skin, causing pain and discomfort. Callus Remover® removes uncomfortable calluses smooths cracked heels without damaging your feet!
Soft, Sexy Feet Anywhere
The rechargeable battery lets you use Vacuum Callus Remover And Collector anywhere. Take it in the car for sandal-ready feet at the beach or to the office to touch up cracked heels in between meetings.

Why choose our Electric Pedi Vac Callus Remover?

Ergonomic design, it has

 

2 speeds

 

with an emery pad and a polishing pad.
Save the cost

 

of going to the salon.
You can

 

have pedicure feet whenever you want.
Rechargeable battery

 

allows you to use anywhere.
High power yet soft.
Product Parameters:
Product Name: Electric Pedi Vac Callus Remover
Current: 2A
Use time: one hour
Mode: Coarse / Frosted
Product size: 9.5x6.5cm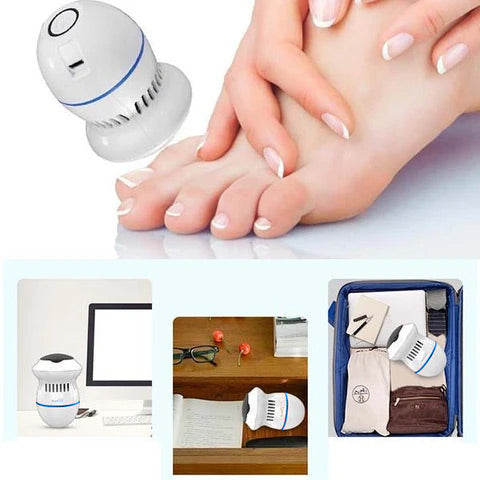 Package Content:
1 x Main device
1 x Diamond Head
1 x USB charging cable
1 x User Manual
1 x Cleaning Brush