Portable Eco Washing Machine
Dishes and laundry can be a burden, as wash-only clothes and garments need special care and dishes are annoying to do by hand. Not to mention how much water and electricity costs!
What happens when travelers are on a trip and all their clothes are dirty?
No worries! Our Miracle MiniTM Portable Washing Machine Cleaner is a game-changing portable
washer to help clean your clothes, cleans your dishes, save 60 times energy, and uses up to 90%
Our mini washing machine uses ultrasonic high frequency for high sterilization rates that remove dirt and grime. Tested and proven by peer-reviewed studies to effectively clean dishes, laundry, and more with 90% Less water.
This effectively helps provide millions of people with fresh water and helps save our planet.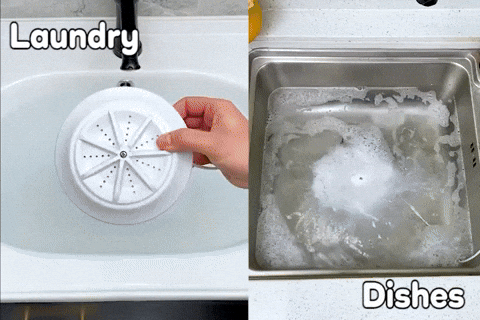 automatically shuts off after working for 30 minutes. The outside of Miracle MiniTM is made of eco-friendly ABS, non-toxic, firm, and wear-resistant. It is most suitable for travel, business, and children's laundry. It is powered via USB with an output power of 6W.
This portable washing machine is applicable to small and light clothes such as T-shirts, shirts, light skirts, close-fitting clothing, socks, etc.
The portable washing machine is lightweight and portable. It can be placed in pockets or tote bags to carry away. Perfect for traveling or small living quarters. Start saving your wallet and the planet today!